The tower is located at the corner of King Street East & Hwy.#20 (Centennial Parkway) in Stoney Creek. You can reach the tower by coming from either the Toronto or Niagara areas, by taking the Centennial Parkway exit off the QEW. Take that road all the way up towards the escarpment. So you will be heading South up Hwy.20, NOT North towards the Lake. Turn left at the King Street lights, then make a right into Battlefield Park. It will be on the left hand side corner of that intersection.
Is it haunted?
Well of course this site is haunted. It was used as one of the main spots for the War of 1812 aka the Battle of Stoney Creek. Many lives were lost on these grounds during this time period. Many of the deaths also occured in the Tower, which was the focal point of this war. There are many original structures still standing on this property as well. Such as the Battlefield House, among others. All have been rumored to be haunted. You can take daily tours through all of the landmarks on this site.
Monday, Apr.11/05
Notes: Calm night, pretty cold, but not windy at all. Not a lot of activity at all on this night. But as i finished my walk around the tower i started to hear some pretty strange noises coming from the tress or forest right behind the tower towards the left. Every time i would walk closer the "skreech" like sound would go off. If i stopped you heard nuthin, it only made a weird sound as i approached it. Very strange it could of been anything. I thought it was pretty cool and yet freaky at the same time.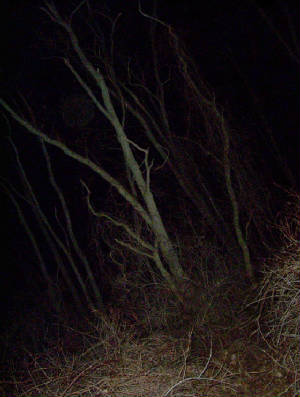 In the two pictures above. You can notice a fairly large size ORB, in both of the pics. The pic on the right is more noticable then the one on the left. Even though in the pic on the left it also has another smaller ORB right beside the larger one on its left-hand side. These photos were taken at the stop where i heard those "strange" noises coming from the forest right behind the tower on the left-hand side.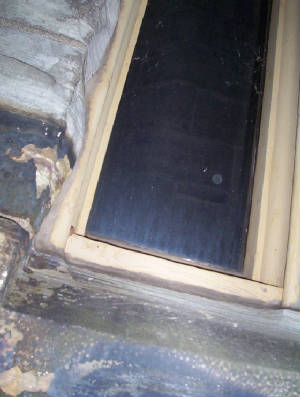 This is a picture i took around the right-hand side of the tower, right beside the hill/forest. Since we went there at night, the tower and property was closed. So i couldnt get any real pictures of the tower. So i just started snapping shots in the side windows and came up with an ORB in this picture.